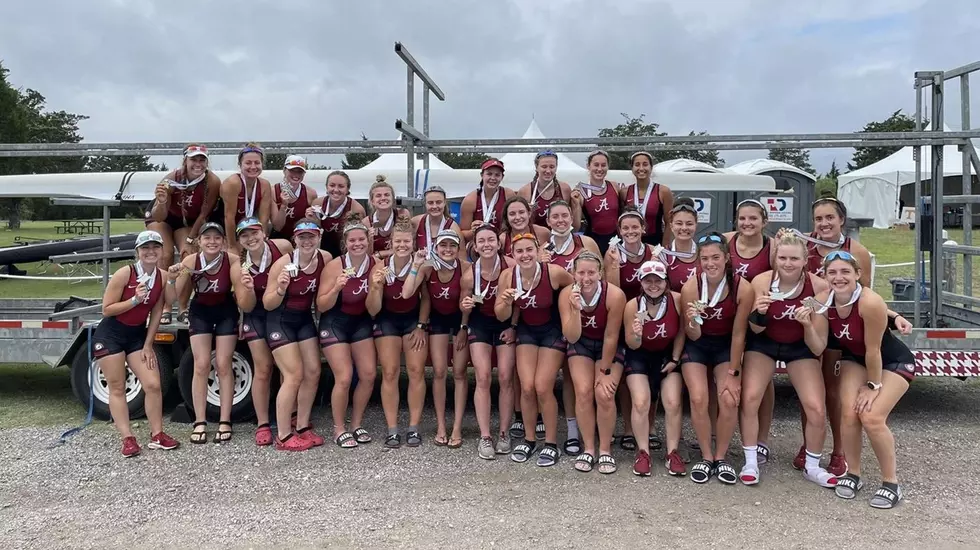 Alabama Rowing is Going to Programs First National Championship
Photo Courtesy of Alabama Athletics
For the first time in program history, Alabama rowing will head to the national championship.
After a second-place finish in the Big XII championship, the Crimson Tide was selected as an at-large team this afternoon and gave the Tide their first bid to a national championship. For the first eight boats, Alabama placed at the 11th spot, just outside the top ten. In the second eight boats, the Tide came in at 17 and finished at 13 for the fours.
Alabama opened its season with a sweep of Eastern Michigan in Tuscaloosa, with the Varsity 4+ and Varsity 8+ taking the top spots. The team continued to victory as the Third Varsity 8+ and Second Varsity 4+ brought home the wins at the Oak Ridge Cardinal Invitational. The Tide climbed to the No. 11 spot ahead of the big matchup against No. 8 Tennessee.
The Tide took three out of the four races against the Volunteers and jumped into the top 10 for the first time in program history. The First Varsity 4+ dominated the Lake Las Vegas Pac-12 Women's Invitational defeating Cal and USC by almost eight seconds. First Varsity 4+ continued its dominance with a seven-second victory over the field in the Big 10 Invitational. First Varsity 8+ came away with two wins from the invitational and earned the Big XII's Boat of the Week.
Alabama closed out the season with Longhorn Invitational and the Big XII Championship. All of Alabama's crew finished with an A in the Longhorn Invitational, with First Varsity 4+ placing the highest at second place. The Crimson Tide placed second in the Big XII Championship and medaled in all four of their races. The Tide earned 141 points right behind Texas, who made an automatic qualify for the NCAA championship.
The historic season for the Tide continues as the team will travel to Nathan Benderson Park in Sarasota, Florida, to compete in the NCAA championship on May 28-30 in pursuit of the first-ever national championship.
The 10 Greatest Athletes from Alabama
This 2 Million Dollar Victorian is the Tuscaloosa Home of Your Dreams