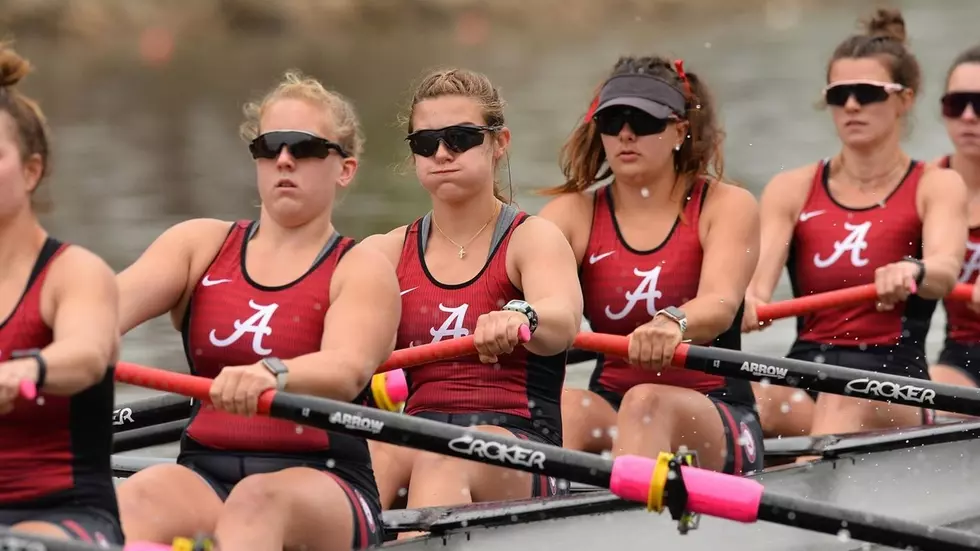 Alabama Rowing Earns Big 12 Boat of the Week
Photo Courtesy of Roll Tide Athletics
On Wednesday afternoon, the Big 12 Conference announced Alabama's Varsity 8+ as the Boat of the Week after a huge pair of wins at the Big 10 Invitational.
During last weekend's Big 10 Invitational, the Tide picked up a couple of wins against No. 9 Tennessee, No. 15 Wisconsin and No. 17 Minnesota and finished with a winning time of 6:27.568. The next day the Crimson Tide came away with another victory of 6:39.392 against the Badgers and No. 16 Iowa Hawkeyes.
The lineup for the Varsity 8+  included; Izzie Gonzales, Claudia Mecchia, Darcy Jennings, Gianna Rucki, Brittany Hill, Ella Kemma, Ella Maggio, Gabrielle Krieger and Rebekah Stewart.
The first and second Varsity 4+ also took home victories from the Invitational in the morning round. First Varsity 4+ beat out Tennessee, Wisconsin and Minnesota with a winning time of 7:30.470. Second Varsity 4+ finished with 7:31.516 over Notre Dame, Tennessee and Minnesota. The third and fourth Varsity 8+ finished the afternoon session in second place behind Michigan State, Ohio State, Wisconsin, Notre Dame, Rutgers and Minnesota.
Alabama Rowing head coach Glenn Putyrae said the team continues to improve as the last quarter of the season approaches.
"We had some solid results this morning and some areas we can continue to improve," Putyrae said. "We have been racing hard for two straight weeks and are continuing to learn about what we can do. We look forward to continued improvement as we move into the final quarter of our season."
Alabama Rowing returns to action on Saturday at the Longhorn Invitational in Austin, Texas.
Photos: Alabama Steak and Beans Dinner and Rings Ceremony
The Alabama Crimson Tide received its rings for the 2020 season and the team ate the Steak and Beans Dinner. The White team celebrated its 13-10 victory over the Crimson team by having steak to the Crimson's beans.