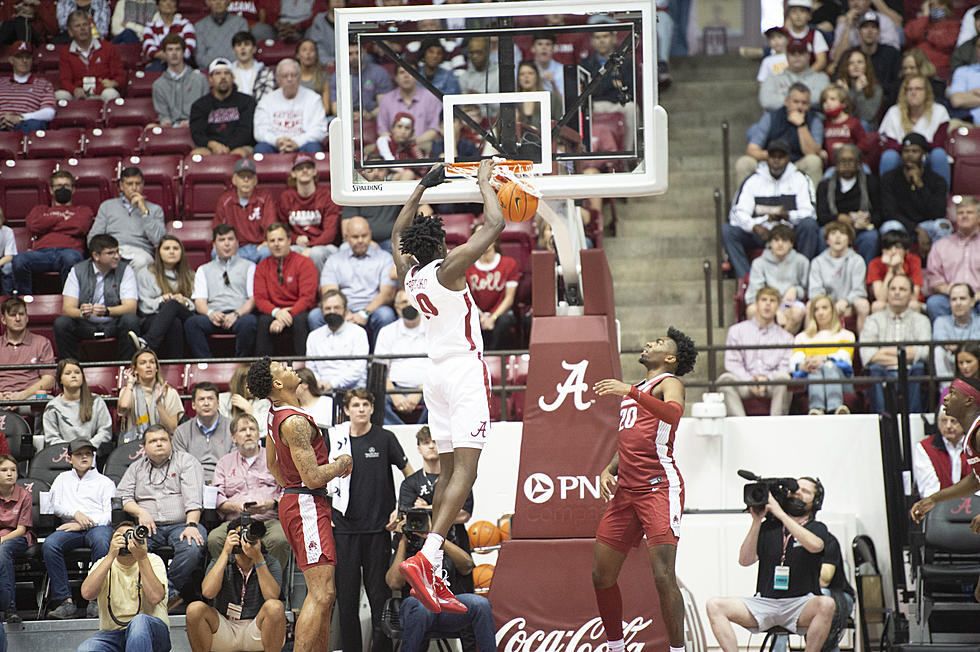 Alabama Hoops Back in the Top 25
Getty Images
Alabama men's basketball (16-9, 6-6) returns to the top 25 of the AP poll after a four week absence from the list.
The No. 25 ranked Crimson Tide was voted into the final spot of the top 25 after wins at Ole Miss and in Coleman Coliseum against Arkansas this past week. The team beat Ole Miss last Wednesday 97-83, led by guard Jaden Shackelford who had a career high 30 points in the game, including going 8-of-13 from the three point line. The Tide then survived a close battle to Arkansas, a team who was on a nine game winning streak and who had just beat No. 1 Auburn the game before, beating the Hogs 68-67.
Alabama had been excluded from the top 25 poll since Week 11 of the season after being in it for the first 10 weeks. The Tide is also the only team with more than seven losses to still crack the top 25, in big part due to the team's wins over five teams in the top 25 of the most recent poll, including the new No. 1 Gonzaga.
Alabama's and No. 23 Arkansas's addition to the poll brings the SEC's total number of ranked teams to five, which is tied first for the most teams from a single conference in the top 25 along with the Big Ten.
The Crimson Tide will take on Mississippi State in Coleman Coliseum on Wednesday at 6 p.m. CT, before heading on the road to play against Kentucky on Saturday at 12 p.m. Both games this week will serve as revenge games for the Tide as they have lost to both teams earlier this season.
Men's Basketball's Career Leaders in Made 3-Pointers
Highest Rated Recruits in Bama Hoops History
Take a look at the highest rated recruits to play for Alabama since 2000 according to 247Sports.