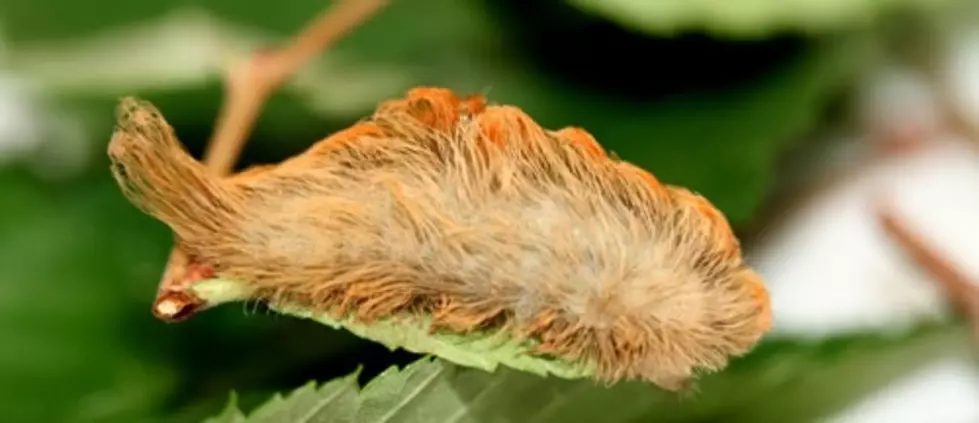 Alabama Be On The Lookout For A Deadly Fuzzy Caterpillar
Courtesy of The University of Florida
Well, nature has thrown me a curve ball, again.
Caterpillars are something almost every one of us has touched as children.
I know I have had one crawling on my hand as a child playing in my backyard.
So it's cute and fuzzy and you just want to touch it… yet you really should avoid it at all costs!
Who would have ever imagined venomous caterpillars crawling around Alabama…
So here I am, again, letting everyone know the dangers out there thanks to Mother Nature.
So keep reading to learn about the top 3 dangerous caterpillars that are crawling around our state.
As I researched the cute and fuzzy Asp Caterpillar, AKA the Puss Caterpillar, I found we have more than one dangerous caterpillar in our state.
The fuzzy hairs that make this caterpillar stand out in a crowd are what can cause us a visit to the ER.
Tucked between the fuzziness are hollow hairs. Those hollowed-out hairs contain a venom that is comparable to the bite of an Asp snake, hence the name of this fuzzy creature.
So as much as you want to run your fingers across this cute little creature, I suggest you don't.
Next let's talk about this colorful little guy, who looks like he is wearing a green t-shirt. This is a Saddleback Caterpillar.
This guy's sting may not be as painful as the Puss Caterpillars' sting, yet I don't think we want to test just how painful it is.
People have said it's about as painful as a bee sting, I'm sorry those do hurt!
Now to number 3 on our list.
Number 3 looks dangerous enough to make you not want to touch it. Yet, I think we should point out that the Buck Moth Caterpillar is not a sting we would want to experience.
This little guys stings cause pain that radiates followed by redness and itchiness that can last over a week.
So what should we do if we come across one of these?
Well, the first thing is don't touch it!
If you happen to touch one, use a piece of tape to remove any barbs that may be penetrating your skin and seek medical attention.
Road Trip: Best Christmas Towns in the U.S. Includes Special Southern Spots
Gallery Credit: Mary K
Reform, Alabama Hunters Paradise Plus Rustic Cabin
Gallery Credit: Mary K
Alabama Athletes With NIL Deals
The biggest evolution in college athletics history is here. Check out which current Alabama athletes hold NIL deals in this ever-expanding and changing photo gallery.
Gallery Credit: Jacob Harrison