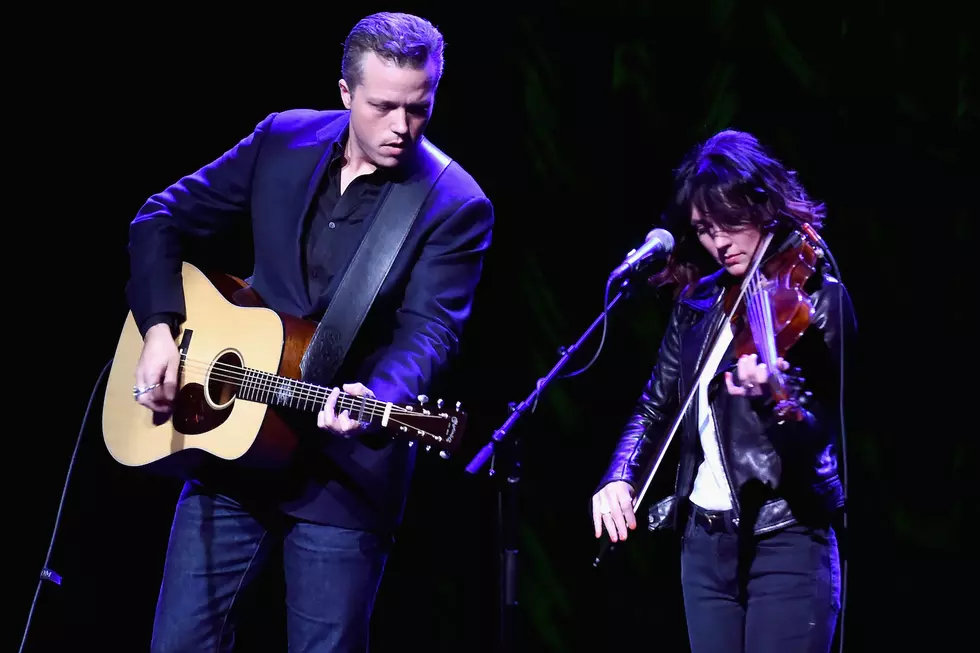 5 Jason Isbell Live Moments That Make Us Go 'We're Not Worthy!'
Rick Diamond, Getty Images
Jason Isbell has been a road warrior for years, both with his former band Drive-By Truckers and with his current troupe, the 400 Unit. However, in the last half-decade-plus, he has grown into a must-catch live act, whose ability to conjure up roaring Southern rock and story-driven folk rock is unparalleled.
Isbell has also had the good fortune of playing with some of his heroes, including John Prine and David Crosby. In a nod to his musical prowess, these collaborations feel less like baton-passing between generations than they do peers collaborating on equal footing.
The following are five of the best Isbell live moments, both solo and with the 400 Unit.
'Austin City Limits' (2014)

Isbell has appeared on Austin City Limits a few times now, although this 2014 performance -- which aired several months after the release of his album Southeastern -- gave many people one of their first high-profile glimpses at his live power. One of the set's most poignant moments was "Cover Me Up," a song about getting sober and then having a clear enough head to develop a loving relationship. The performance is stripped down and somber, which puts bandmate and wife Amanda Shires' fiddle and Isbell's forceful, harrowing vocals -- which crack with emotion -- at center stage

The Ryman Auditorium With John Prine (March 2016)

Isbell might be one of the biggest Prine fans in Nashville -- and that's saying something. However, every time the pair collaborates onstage, it's unique, as their mutual respect and reverence elevate the performance into something special. That's certainly the case with this duet on "In Spite of Ourselves," which finds Prine and Shires trading off lines and harmonizing while Isbell concentrates on acoustic shading in the background. It's playful and (at times) ribald, but a pure delight, and reveals that Isbell's aptitude as a sideman is as fine-tuned as his skills as a frontman.

Robert's Western World (September 2016)

Some people kick back and relax after awards ceremonies, especially if they've won multiple two trophies. Not Isbell. After nabbing Album of the Year for Something More Than Free and Song of the Year for "24 Frames" at the 2016 Americana Music Awards, he and Shires headed from the Ryman Auditorium over to Robert's Western World on Nashville's Lower Broadway -- a quick dash across the alley that's behind both venues -- for a surprise set with the house band that featured this cover of Merle Haggard's "Sing Me Back Home." The performance turned into a reverent sing-a-long driven by Shires' fiddle and precise counter-harmonies. It illustrates how comfortable Isbell is on any stage, big or small.

Americana Music Awards Nominees Announcement With Mike Cooley and Patterson Hood (May 2017)

At this point, any residual bad feelings about Isbell leaving the Drive-By Truckers are yesterday's news. In fact, every so often, he and his old bandmates -- notably, principal songwriters Patterson Hood and Mike Cooley -- get back together to play a song or two. That's what happened at the 2017 Americana Music Awards nominees announcement ceremony, when the trio performed a resonant, acoustic version of the Isbell-penned "Outfit, from DBT's Decoration Day. Lyrically, the song is a lovely, empathetic mediation on family, legacy and aging. This version in particular possesses emotional weight that illuminates the song's references to relationships changing and growing as the years pass -- a feeling to which the trio themselves can relate.

Newport Folk Festival With David Crosby (2018)

Isbell and the 400 Unit's 2018 Newport Folk Festival appearance felt like a victory lap of sorts, in no small part because the band was fired up from months of touring. However, the set was especially fierce thanks to special surprise guest Crosby, who joined the troupe for two covers: Crosby, Stills, Nash & Young's "Ohio" and CSN's "Wooden Ships." Isbell himself has occasionally covered "Ohio," but having Crosby on hand to add backing vocals and guitars amplified the song's poignant tone and modern relevance. "Wooden Ships," meanwhile, underscored the 400 Unit's ability to jam and smolder where need be. It's this kind of versatility that's made Isbell and the band such a must-catch live act.